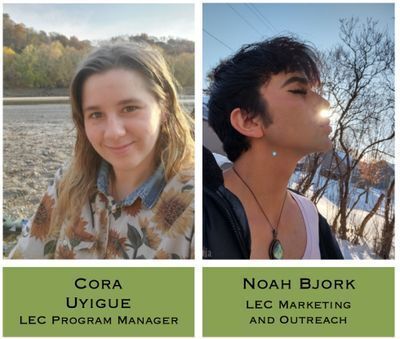 We are pleased to announce that we have two new staff members joining the LEC team! We would like to introduce Cora Uyigue our new Program Manager and Noah Bjork who will be coordinating Marketing and Outreach. We are excited to be bringing them on board and look forward to working with both of them as LEC continues to grow.
Meet Cora:
Hello! My name is Cora. I was born and raised in St. Paul Minnesota. I've always had a passion for wildlife and the outdoors growing up. My fondest childhood memories are of my family camping and going on road trips.

I graduated from Gustavus with a bachelor's in Environmental Studies. I loved studying plants, ecology, and conservation. After graduation I went on to be a outdoor educator at Wolf Ridge ELC where I got to share my passions with classrooms from across the state.

I moved to Mankato in 2020 and have fallen in love with the community and have gotten to work with many amazing people. My favorite experiences have been working at Mankato Youth Place, and being a guide at Bent River Outfitters. You may have seen me working at Aldi's as well.
In my free time I like to crochet, go on hikes, cook, and watch movies with my husband. I can't wait to work with the amazing team at Living Earth Center and to get to know this community even more, it's going to be a fun year!
Meet Noah:
Noah Bjork has deep roots in the Mankato community. Over the years he has invested his time & energy fostering compelling relations within a variety of local businesses. His passion for creating safe spaces has led to experiences that cultivate organic growth & inspire creativity. He is driven by connections that empower himself & others to engage with the purest form of their self expression, & he looks to further develop strong partnerships that encourage sustainable living practices while working for LEC.
In his free time you will find Noah hanging out with his dog Poppy. They enjoy hiking, kayaking, & hammocking. If they aren't in the woods or on the river, then they are playing the piano, journaling, & doing tarot to learn from the past & see what beauty the future holds