6th Annual Earth Conference - Claim the Commons: We're in it Together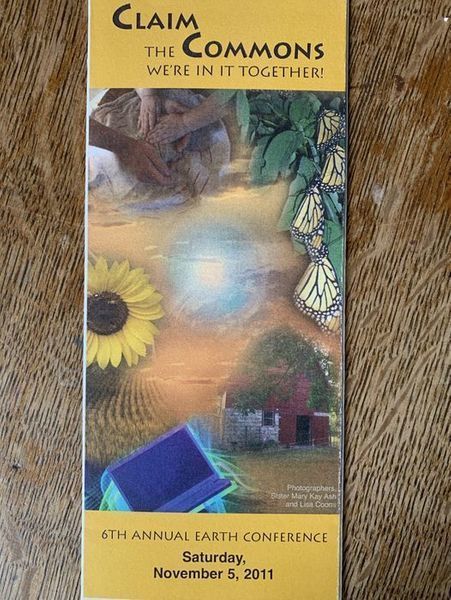 The Commons is the vast wealth of natural and human achievements that we inherit together and have the privilege to pass on to future generations.  It is all those resources that belong to everyone.
However, a great question in contemporary life is who will control or claim these commons.  Are they being privatized and by whom?  Will such privatization enhance the community or divide it even further in to those who have more power and those who don't?  Do we have a role in protecting the commons?
In this conference we learned more about the commons, explored the dangers it is facing, began to understand our part in protecting it, and found ways to claim and protect it for all.  Claiming the commons instilled us with a new vision of politics, culture, and community... a new vision of the power we have together.
Opening Reflection: The Commons, A Reflection for "Common-unity"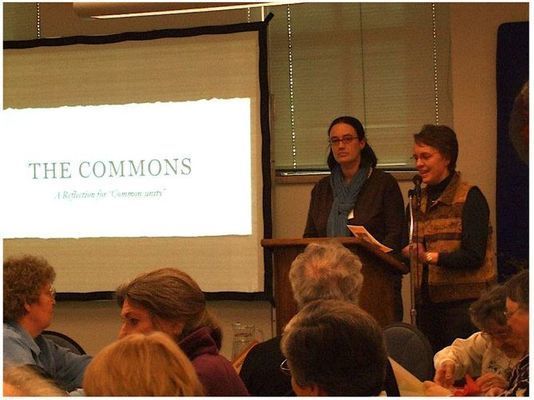 Reader 1: Let my awareness of my own needs broaden to include the awareness of all of our needs.
Reader 2: For all people share the need for access to clean air and water, nourishing food, security, shelter, and the strength that comes from a supportive community.
Response: From my awareness – to our awareness: We're in it together!
Reader 1: Let my knowledge that the valuable resources, which enrich my life, also belong to all people in our world.
Reader 2: For the commons refer to a wealth of valuable assets that belong to everyone, ranging from access to education, a voice in government, to wildlife preserves, a fair and working judicial system, to the internet.
Response: From my knowledge – to our knowledge: We're in it together!
Reader 1: Let this learning open my heart and mind.  Let it awaken my understanding of all that "We" hold in common with each other.
Reader 2: This will lead to a "Common-Unity," a community where the individual "me" will become a united "we." This "united we" will work together to value, preserve, and share our common goods.
Response: From my openness – to all we hold in common: We're in it together!
Reader 1: Let the work of my hands and the desire of my heart connect with the efforts and desires of others to take action to protect the "Common Goods"
Reader 2: Let us come together to awaken, preserve, and advocate as one to "claim the commons."   We will claim the commons not only for ourselves but for everyone, every creature on our earth.
Response: Claim the Commons: We're in it together!
Keynote Speaker - Mark Schultz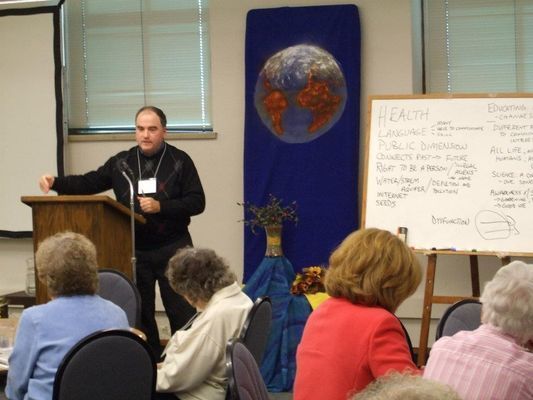 Mark Schultz is Land Stewardship Project's Associate Director/Policy and Organizing Director.  Mark works with leaders in LSP's four major programs - Farm Beginnings, Community-Based Food Systems, Membership and Policy and Organizing - to win advances for family farms, urban and rural communities, and the land, and to build power for further change. 
In addition, Mark plays leadership roles in numerous related efforts for economic and social justice, including Campaign for Family Farms, Corporate Accountability International, Take Action Minnesota, and the Organizing Apprenticeship Project.
Afternoon Workshops - Avenues for Action
The afternoon consisted of two hour-long sessions.  Participants could choose from the following 5 workshops which they wanted to attend.

A. Clean Energy From the Commons
Join Citizens for Clean Energy and the Sierra Club for a presentation and discussion about Minnesota's energy future and its impact on the air, water, health, and resources we all share.  We discussed existing Minnesota policies that support investments in clean energy economy and what you can do to build momentum in Southern Minnesota for renewable energy and energy conservation.  We also gave a local example, from New Ulm, where citizens were working to stop plans to burn coal and instead look towards cleaner energy solutions.
Jessica Tatro joined the Sierra Club in November 2009 as an Organizing Representative with the Beyond Coal to Clean Energy Campaign in Minnesota.  Jessica brings a background in grassroots organizing and environmental advocacy.
B. Legislative Action 101
This workshop offered practical information and skills on how to influence legislators about values and public policy you want them to support.  It focused on the efforts and helpful practices to change the political systems that enable injustice.  Beginners and those wanting to review their skills were encouraged to attend.
Kathleen Mary Kiemen and Jeanne Wingenter are School Sisters of Notre Dame.  Jeanne serves as the Director of the SSND Office of Justice, Peace, and Integrity of Creation, and Kathleen Mary serves as Co-Director of the SSND Center for Earth Spirituality and Rural Ministry.
C. Creating a Better Food and Farming System
Federal Farm policy has big impact on the farm landscape as well as what's on our dinner plates.  This workshop provided an overview of the upcoming farm bill and how communities and citizens can organize and demand a better food and farming system - one that is more fair, environmentally responsible, and healthy for people and the land.
Adam Warthesen serves as lead organizer for the Land Stewardship Project's work on federal farm policy and collaborating with allied organizations to promote healthy land and food practices.
D. Farm to Fork, Plate to Politics
This workshop explored ways to advance women's leadership in our common grounds, our communities.  With women as the primary drivers of the sustainable food movement weather as farmers or food buyers, it's time for more women to have a seat at the decision making tables on every level to further encourage this movement.  A leadership development component was a part of the workshop's message.
Liz Johnson has coordinated White House Project (WHP) leadership training programs within the Midwest region since 2004.  A leader in the design and implementation of rural women's leadership programs, Liz has worked  and trained women from over 250 cities and town across the Midwest and even more women from across the country.
E. The Minnesota River: Upstream/Downstream Alliance for Action
Our state is named after the Minnesota River and yet for the past 100 years the river has been treated as an open sewer, drainage ditch, and a dumping ground - making it one of the most polluted tributaries of the Mississippi River.  Upstream and downstream watershed residents are working together to find solutions to turn things around.  Participants learned what they could do in their community to make a difference
Patrick J. Moore is the executive director of Clean Up Minnesota River (CURE) based in Montevideo.  He is an artist, writer, speaker, and community organizer who has devoted more than 20 years to Minnesota River Watershed consciousness training.
Closing Reflection
Reader 1: As we prepare to return to our individual lives, let us take a moment to reflect how we have shifted our focus today from an awareness of "my needs" to an awareness of "our needs."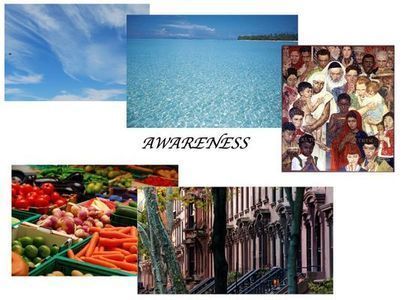 Reader 2: As we prepare to return to our individual lives, let us take a moment to reflect on the knowledge we have gained about the commons, of all it encompasses for every being on our earth.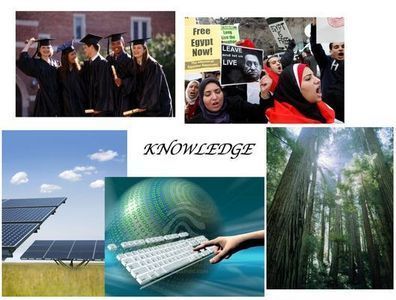 Reader 1: As we prepare to return to our individual lives, let us take a moment to reflect how we have opened ourselves to the power of community and all we can accomplish when we join together to advocate for the commons.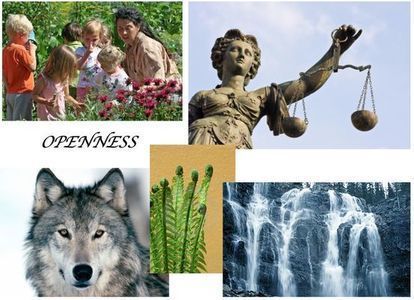 Reader 2: As we prepare to return to our individual lives, let us take a moment to reflect on all that we have learned today, of the strength and the possibilities when we stand together and claim the commons.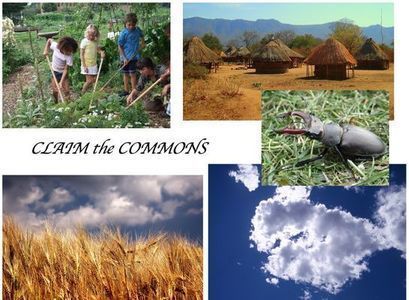 Reader 1: We are blessed with the gifts of the commons.
Reader 2: Together we will work to preserve this gift.
Response: Claim the Commons: We're in it together!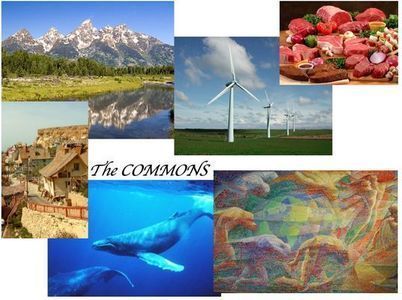 Conference Themed Bookmark
Each participant received an inspirational bookmark in their conference folder.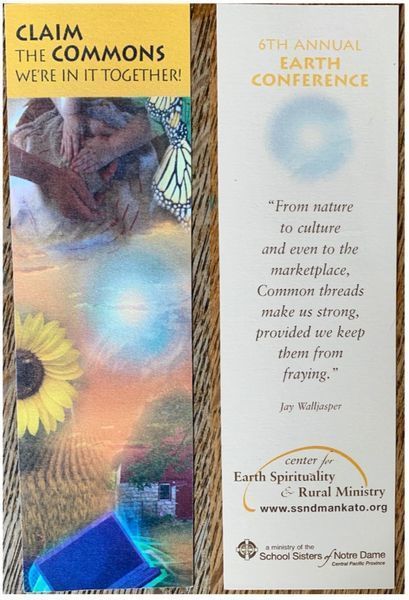 Participants also received a copy of this article from the July 31, 2011 Star Tribune in their folders.