Stay informed about news and events going on with Living Earth Center and the local community.
---
News and Events
Online Class - Minnesota Bison Conservation Herd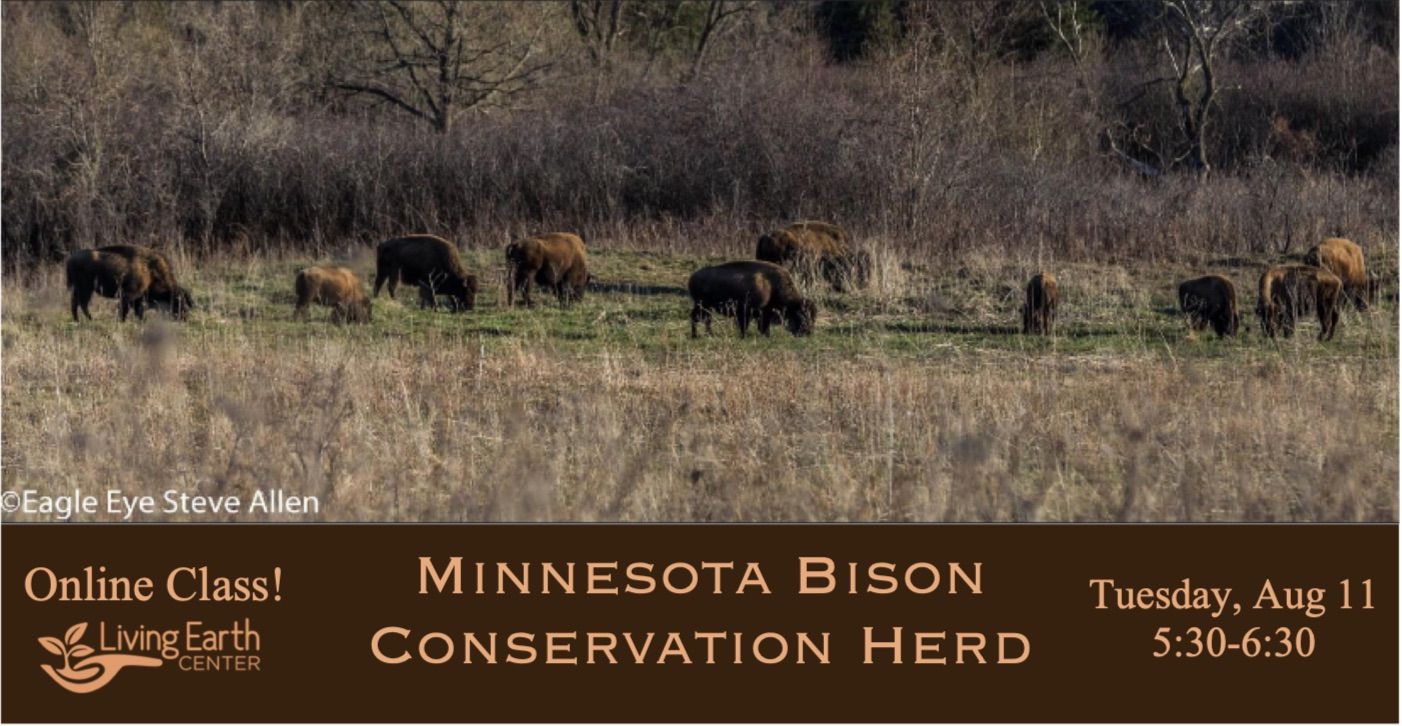 Join LEC and DNR Naturalist Scott Kudelka to learn more about the bison herd at Minneopa State Park.
As the largest mammal on the Great Plains, millions of bison once roamed North America and played an integral role in the livelihood of many American Indian tribes. The American bison is an animal built to live in harsh conditions and this is demonstrated through an activity called "Build a Bison." We will also talk about the distribution of bison prior to the arrival of Europeans, the differences between the words "bison" and "buffalo," and the conservation effort to save this American icon.
Online meetup information will be sent to participants before date of class.
Tickets are $7
Scholarships to cover cost of ticket are available, contact livingearthcenter@ssndcp.org for details.
August Virtual Open Mic Night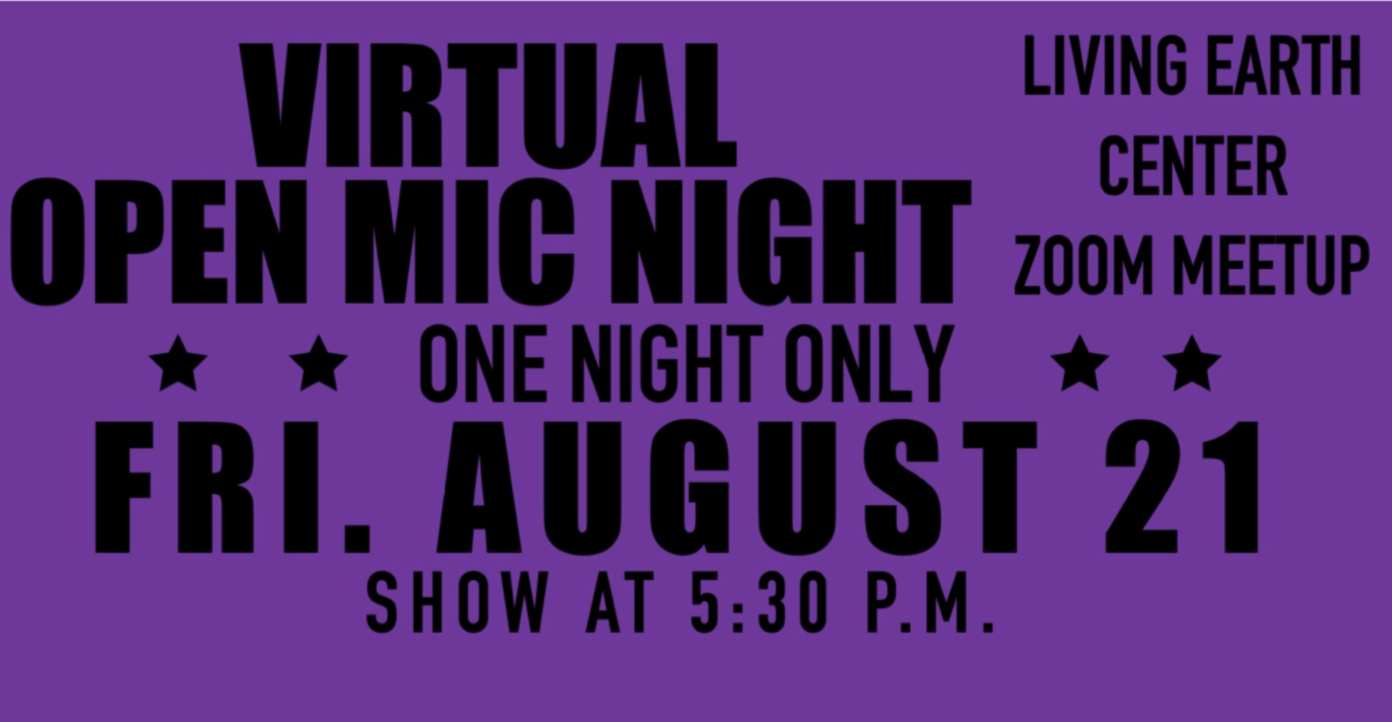 Join us for our last virtual open mic night of the season!
Each month we give performers a theme and then they give us a video where they've interpreted the theme is whatever way moves them, and then we premier the videos via zoom meet up for a Virtual Open Mic!!
August's theme is: Roots
Participants include, but are not limited to:
GNGD's Colin and Laura
Farmer Josh
Kaleb Braun-Schulz
Hanna Cesario
The Scalicis
Mal Murphy
Starr Mackenzie
Cara Lucille
Jenn Melby-Kelly
Poetry by:
Esther Marcella
Jennifer Brunick
Dance Performances by:
Wohpe Fire Bellydance
The Menagerie Movement
Swords and Silks Mankato
Patrice Hundstat
Rita Iverson
Zoom meet up info will be posted here a few days before the event.
If you are interested in performing, please email Melissa at mlmartense@yahoo.com before August 14th!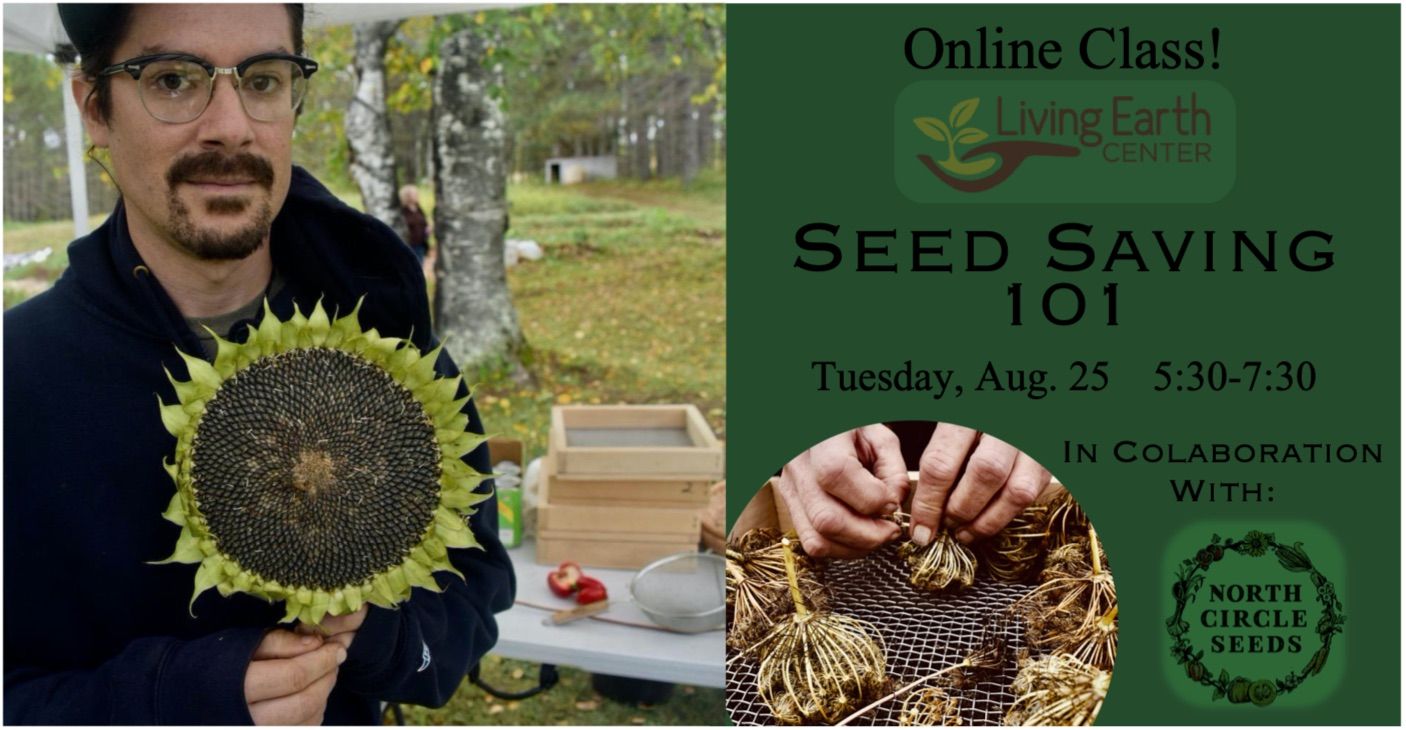 In this online forum with plenty of room for question and answer, we will go over all of the considerations when planting a garden for seed saving. What cross pollinates with what? Will your watermelon cross with my pumpkin? We will discuss vegetable species pollination and how to get high quality seed that is true-to-type. We will also discuss seed cleaning through threshing, winnowing and saving storage methods.
Living Earth Center is honored to host Zachary Paige- manager of North Circle Seeds, a new Minnesota Seed Company growing regionally adapted, sustainably grown seeds with a circle of mainly Minnesota growers.
Zach is the Food Sovereignty Coordinator for the White Earth Band of Minnesota Chippewa Tribe. He has worked for the White Earth Land Recovery Project organizing the Indigenous Farming Conference in Callaway, MN for the past 6 years. Under native leadership, he aided in the formation of the Upper Midwest Indigenous Seed Keeper Network involving over 15 tribes in the region. He holds a Masters degree in Plant Breeding from Iowa State University where he studied carotenoid and protein content in open-pollinated maize adapted to the Northern climate. He has a small farm in Vergas, MN where he farms hardneck garlic, poultry, and stewards many varieties of rare and diversified vegetable seed.
Join the class to learn some basics to build onto for future in depth courses, make some friends, ask some questions and build a common seed saving community!
Cost: $15 (plus fees). Scholarships are available. Nobody is turned away for inability to pay! Email lpeterson@ssndcp.org for details.
Format: Online
---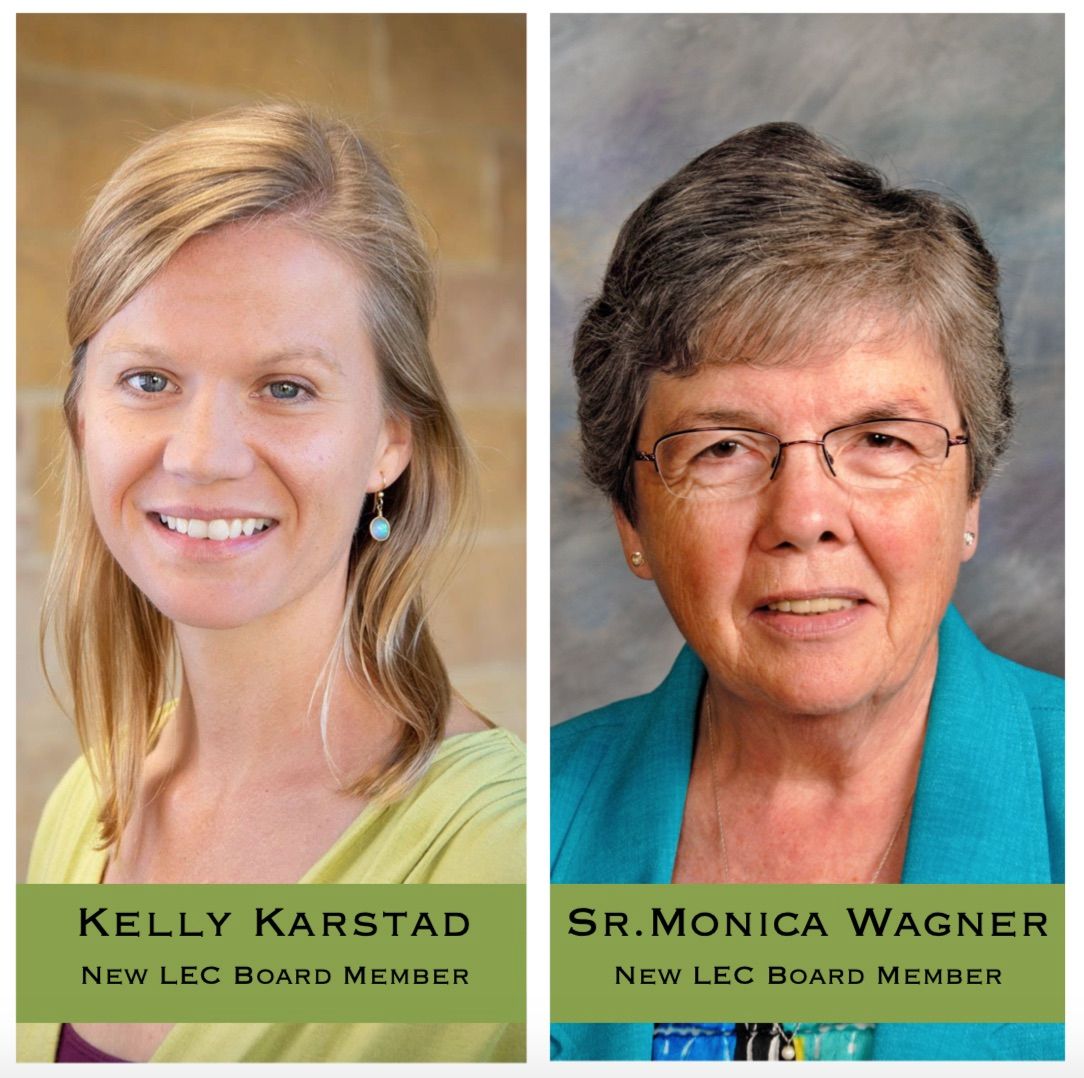 LEC Board of Directors is welcoming two new members, a new Executive Team, and extends it's thanks to Members who have cycled off this year.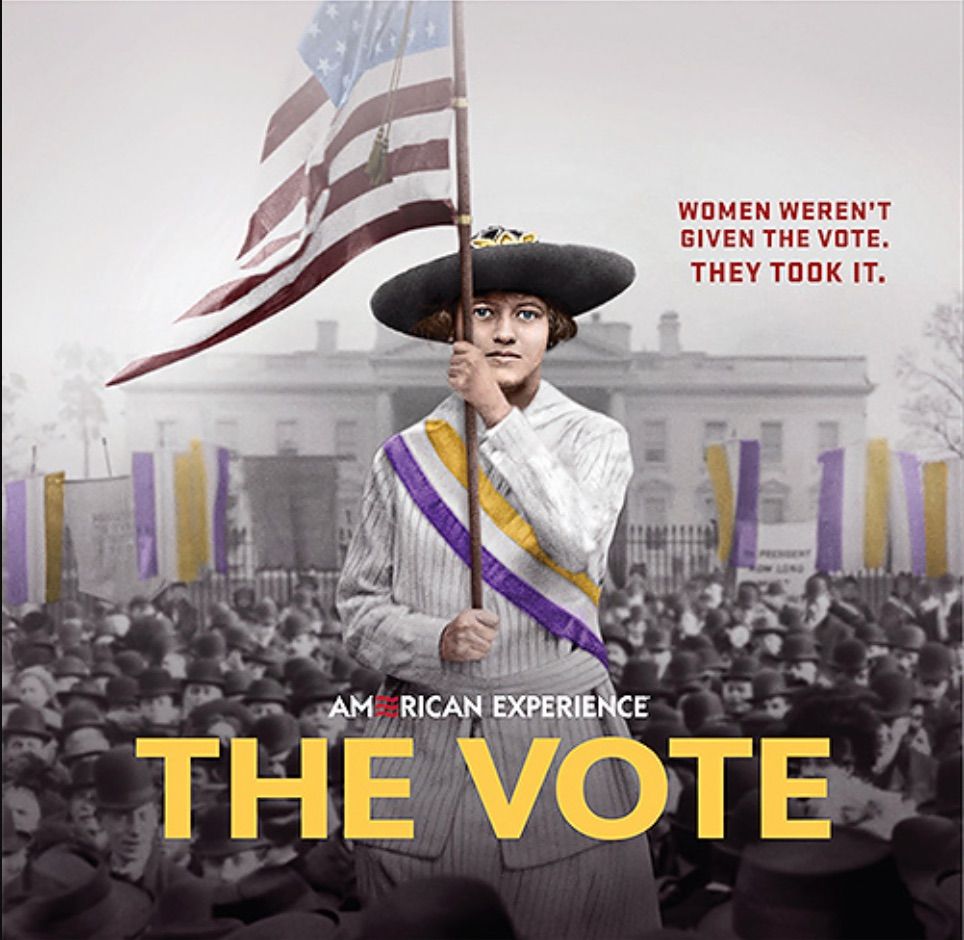 Review of the PBS American Experience documentary "The Vote."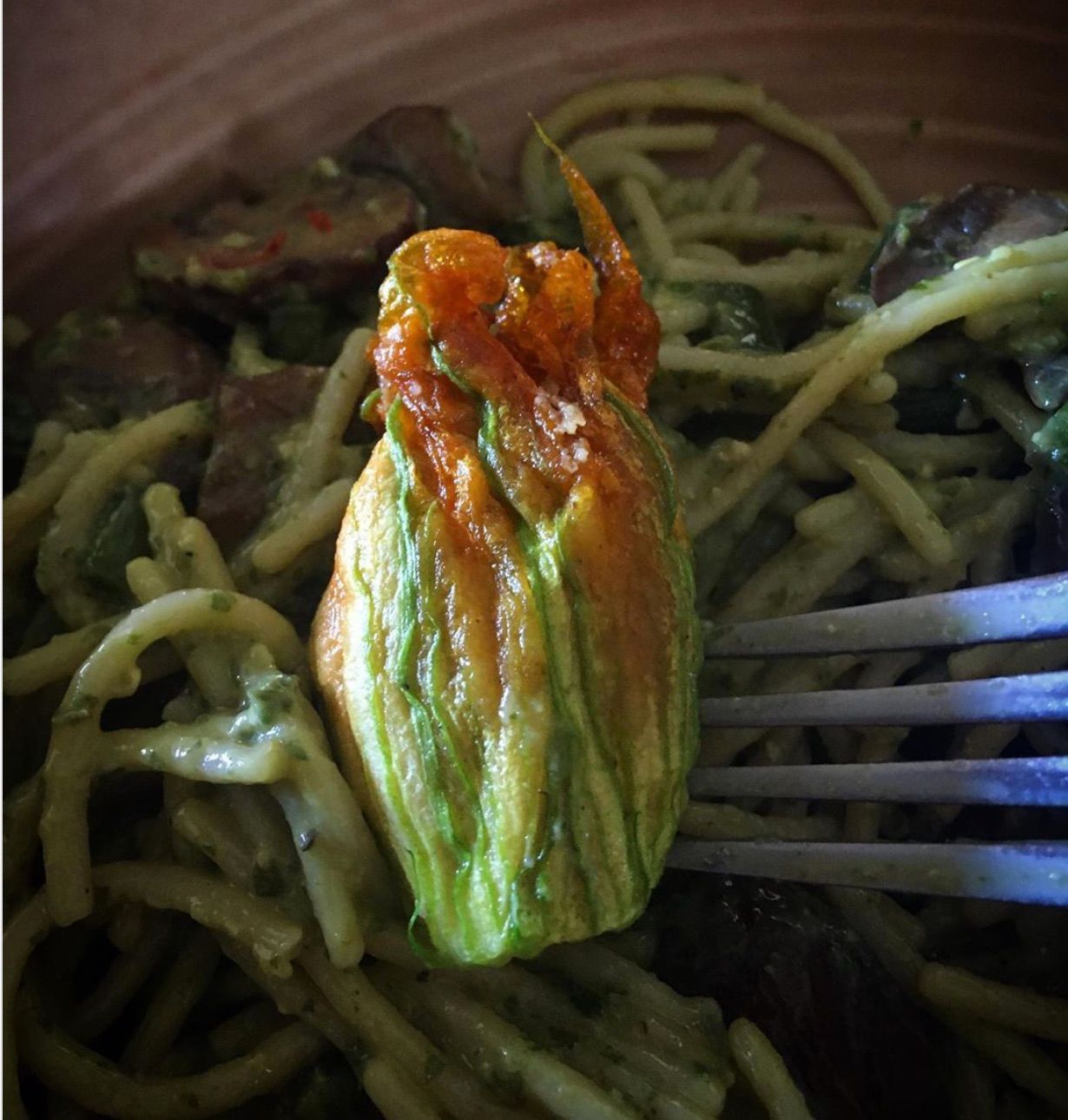 Our new Garden Manager, Martin Jacaruso posted this photo to his Instagram account and it looked so delicious we asked him to share the full recipe with everyone at Living Earth Center.