Our 2021 Summer Programming Series:
Check below for more upcoming programming and LEC news:
---
News and Events
16th Annual Earth Conference - The New Normal: Intentionally Designing Our Future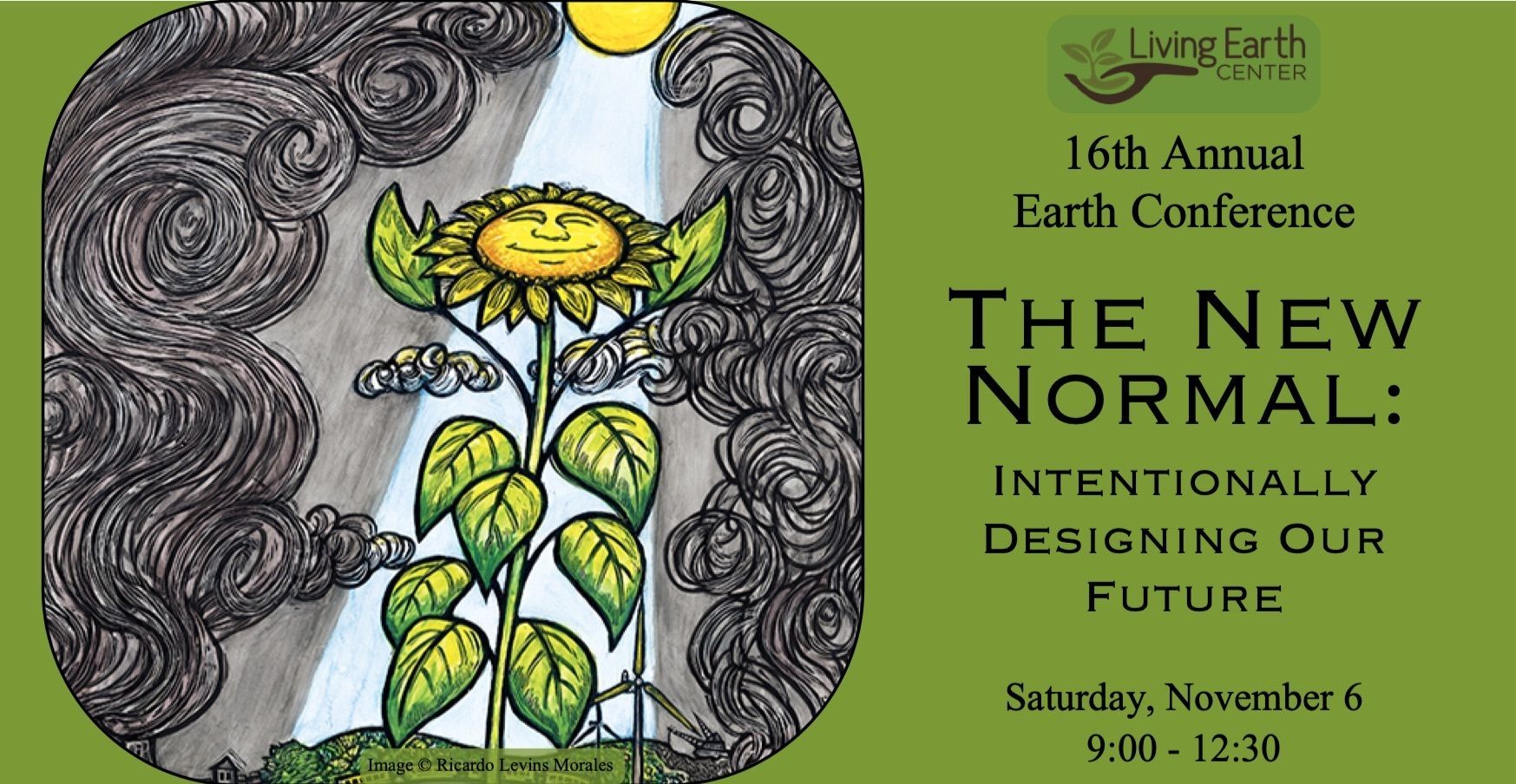 Over the past 18 months we have been forced to make myriad lifestyle changes due to Covid-19.
As things have begun to reopen and people are rushing to get back to "normal," we have to ask ourselves - what are we rushing back to? Can we take the lessons we learned during the pandemic and use them post-Covid to shape a more purposeful, just, and sustainable world?
We will look at these insights through three lenses: our relationship with Earth, eachother, and ourselves.
How can we take the lessons learned from the struggles of the past 18 months and use them to begin crafting a more intentional life and community?
We have the power to choose what we let back into our post-Covid lives.
How will you intentionally design your future?
Schedule:
8:45 Check-In: Check-In: Zoom meeting will be open for chatting and getting settled.
9:00 Welcome and Opening Reflection
9:20 "Relationship with Earth" by Robert Blake followed by Q&A and group discussion.
10:20 "Relationship with Each Other" by Destiny Owens followed by Q&A and group discussion.
11:20 "Relationship with Self" by Diana Gabriel followed by Q&A and group discussion.
12:20 Closing Reflection and Door Prizes
Speakers:
Relationship with Earth:
Robert Blake: Owner, Solar Bear and Executive Director, Native Sun Community Power Development
Relationship with Each Other: I
Destiny Owens: Founder, Black Excellence Around Minnesota (BEAM)
Relationship with Self:
Diana Gabriel: Certified Life Coach
TIckets:
General Admission: $30
Students $10
Register via eventbrite:
https://www.eventbrite.com/x/the-new-normal-intentionally-designing-our-future-tickets-163806123525
---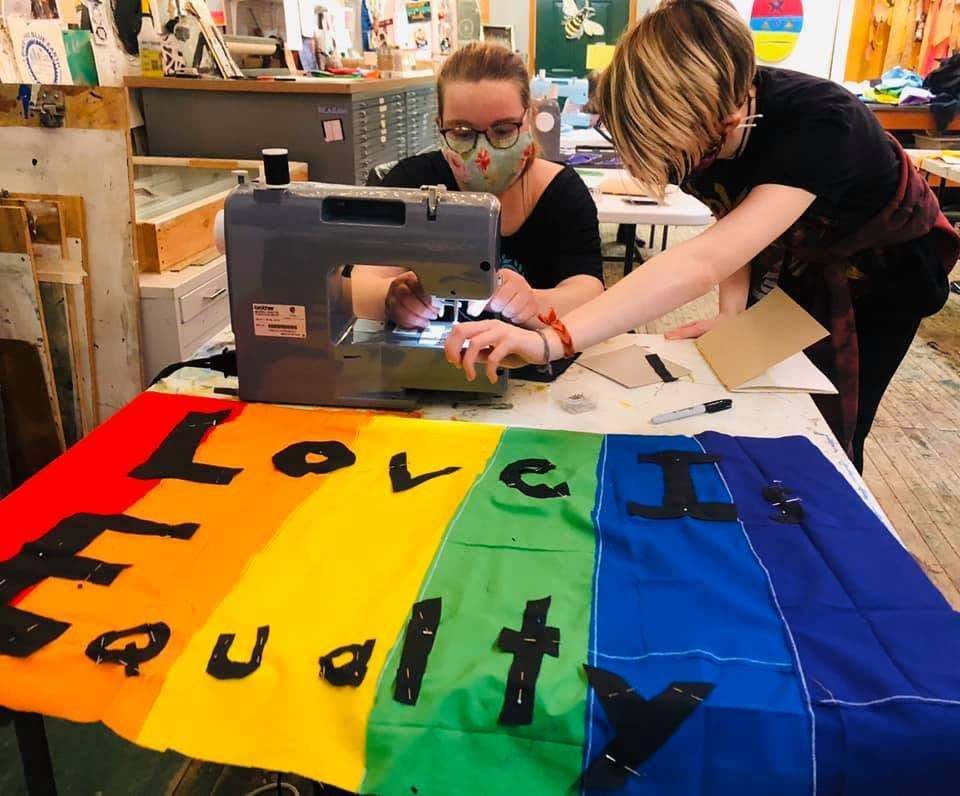 Motivated by the belief that the needle is not just an artistic medium but a tool for advocacy as well, Bring Up Banner Project leads conversations and art making inspired by our current world. Creating and making banners is a way for community members to resist what is happening in the United States and in the world, cultivating silent protesting in a safe and positive way.
Many have come forward to ask questions regarding the future of the Living Earth Community Garden located on the School Sisters of Notre Dame Good Counsel Campus. We would like to thank all who have supported Living Earth Center and previously Center for Earth Spirituality and Rural Ministry throughout the years for their continued concern. We are working with SSND to do everything we can to keep the Community Garden at its current location while also reviewing options of moving the Garden to a different space.
While no decisions have been made, we can say with certainty that Living Earth Center was founded as a non-profit with a long term vision in mind.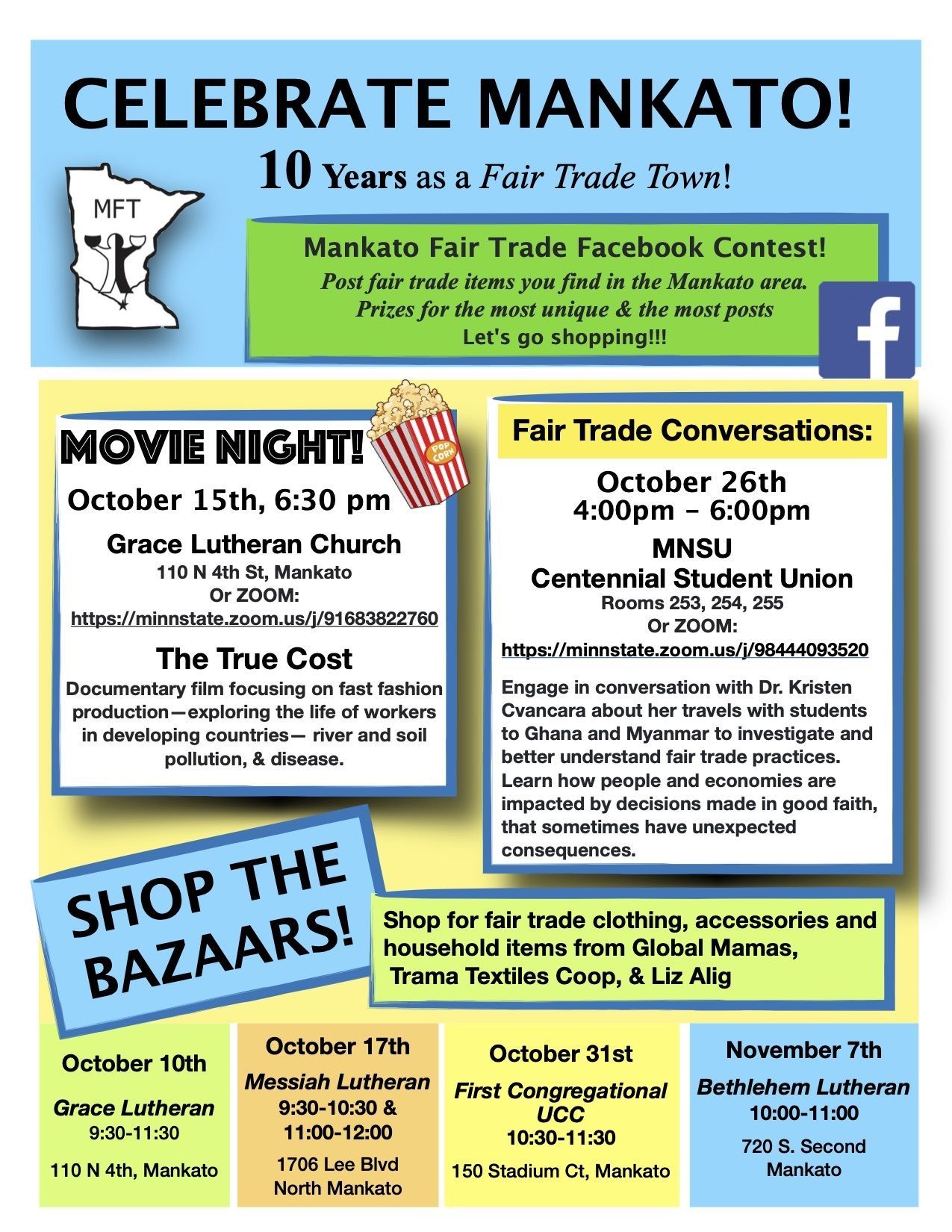 This October, Mankato Fair Trade is celebrating the 10th anniversary of Mankato being a Fair Trade Town!
Mankato Fair Trade has planned a month-long celebration! There will be a fair trade Facebook contest with prizes, a series of bazaars at four different churches, a movie night and a talk at MNSU.