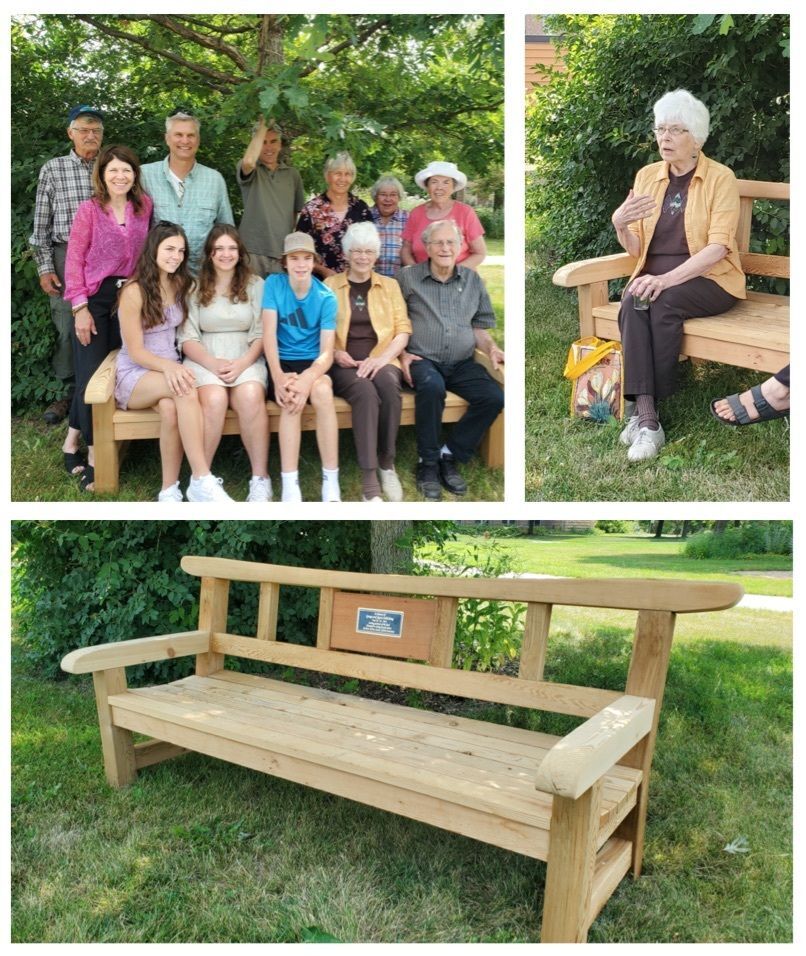 Last month family and friends of longtime LEC volunteers and supporters, Dee and Dave Czech, gathered in the Community Garden to dedicate a memorial bench in honor of Dee's parents, George and Agnes Schlichting. "We were honored when Dee and Dave approached us about having a memorial bench placed in the Garden," said LEC Executive Director Laura Marsala Peterson. "Dee has been an integral part of LEC over the years. We feel privileged to help memorialize her parents in this way."
Czech's parents owned a 280-acre farm just west of Rice, MN. She said that their consciousness of and dedication to connection with the land shaped how she grew up and how she views the world today. "They did diversified farming, raising crops, chickens, pigs, and cattle," she said. "They were sensitive to their relationship to the land. According to what they grew and gleaned from the land, they would in turn, rotate crops to replenish what had been taken from the soil."
She said their dedication to right relations with the land was in alignment with LEC's mission and made the Community Garden the perfect place to memorialize them. "Mom and Dad's relationship with the land seemed equal in importance with their faith and family relationships - very much aware that healthy crops relied on healthy living soil, it sustained us all," she said. "LEC and the Gardens are a living example of this as well."
The bench was designed and built by master carpenter Ben Spidahl. Spidahl, who works for TreHaus Builders in Golden Valley, constructed the bench from reclaimed lumber. "Having Ben create the bench from reclaimed lumber made it feel more personalized and in alignment with the values that Dee's parents lived by," Marsala Peterson said.
The dedication took place July 17th in the Community Garden. Dee and her husband Dave were joined by their children, grandchildren, siblings, and friends. "It was a joyful day!" said Czech. "An occasion that allowed us to gather, reminisce, and center on the core of what gives our lives energy - action flowing from a living faith."
An interesting bit of trivia: George and Agnes were married on October 24th, 1933, which is also the 100th anniversary of the School Sister's founding. While touring the grounds and buildings the group found a framed illustration commemorating the anniversary amongst the items being sold in a SSND rummage sale. "Our son, Steve, spotted the picture from the 100th anniversary of the SSND," Czech said, "It was illustrated in the form of a tree, with branches representing all the European and American provinces brought into being during that time. He was interested in purchasing it for me and of course, I figured out where I could display it, and I am now its happy owner."
All are invited to the Community Gardens to enjoy a relaxing rest on the new bench while taking in the beauty of the Gardens. "When I was sitting on the bench, I was happy to notice that it was long enough for one to lay down and take a nap!" said Czech.