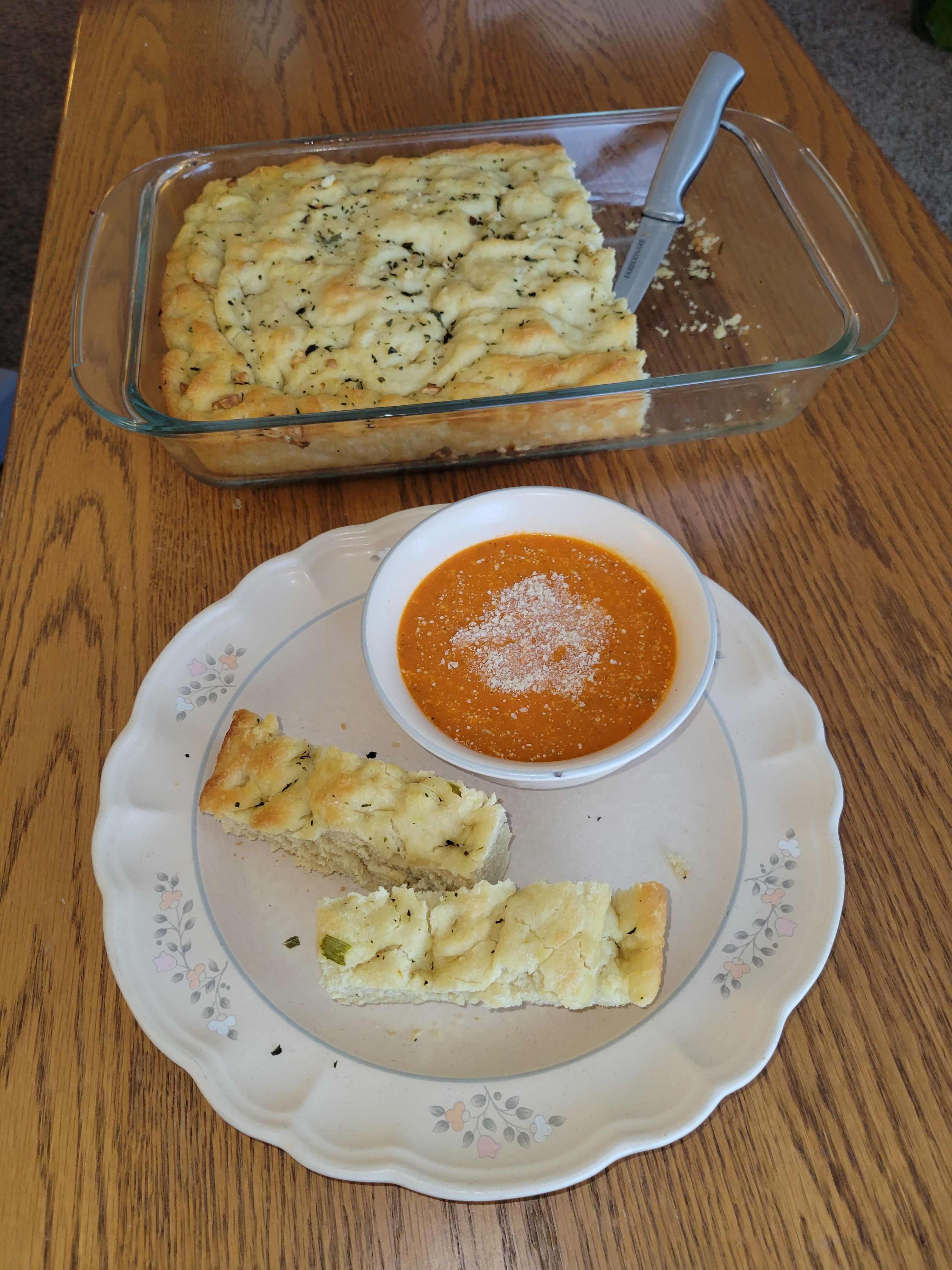 This recipe makes a delicious and easy focaccia bread, it is perfect to enjoy with soup, as a sandwich, or as a side dish to your favorite meals. It's a recipe that I found online a few years ago and have tweaked over the years to the recipe shared below. The "herbs of choice" is a chance for you to give the bread your own personal spin. This time I topped mine with garlic, basil, parsley, and oregano.
No Knead Focaccia Bread
Ingredients:
1/4th oz. envelope active dry yeast
2 tsp. honey
5 1/2 cups all-purpose flour
3 tsp. kosher salt
6 tbsp. extra-virgin olive oil
1 tbsp. unsalted butter
2 garlic cloves
herbs of choice
Directions:
1. Whisk the yeast, honey, and 2 1/2 cups of warm water in a medium-sized bowl and let sit for 5-10 minutes. The mixture should turn creamy in appearance and may foam.
2. Whisk 3 tsp. of kosher salt into the mixture and slowly add 5 1/2 cups of all-purpose flour with a rubber spatula until a shaggy dough forms.
3. Coat the inside of a large bowl with 4 tbsp. of extra-virgin olive oil. Transfer the dough to this larger bowl and coat in the leftover oil. Cover with a silicone lid and chill until the dough doubles in size. This process will take at least 8 hours but can rest in the fridge for up to 24 hours. For a faster process, the dough can be left to rise at room temperature for 3-4 hours.
4. Prepare a 13x9" pan for thicker focaccia, perfect for sandwiches, or an 18x13" pan for thinner, crispy focaccia. Coat the pan in butter and add 1 tbsp. of extra-virgin olive oil to the center of the pan.
5. While the dough is still in the large bowl, coat one hand in olive oil and use your fingers to gather the farthest edge of the dough and pull it up and into the center of the bowl. Repeat 3-4 more times to form a deflated ball of dough. Transfer the dough ball to the prepared pan and let rest for an additional 2-4 hours. The dough should double in size again at this time.
6. Preheat the oven to 450°. Gently stretch out the dough to fill the whole pan. Dimple the focaccia using your fingertips, creating deep depressions all throughout the dough. Add grated garlic, herbs (of your choice), and drizzle 1 tbsp. of olive oil all over the dough. Bake for 20-30 minutes until the top is golden and the edges begin to brown.