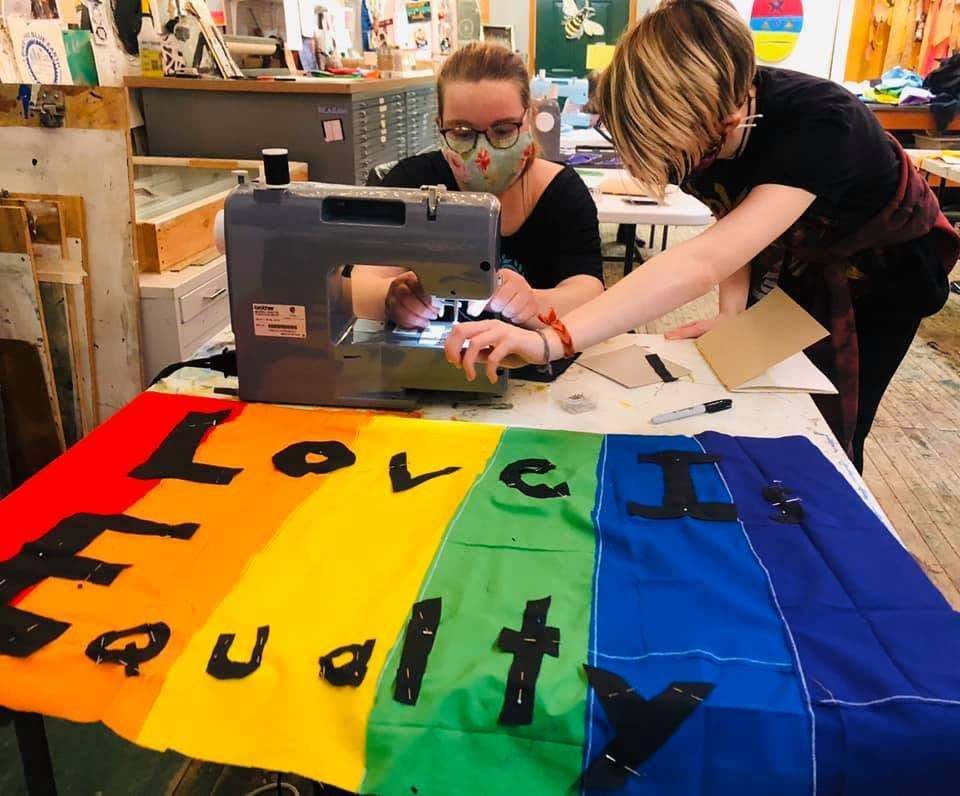 Motivated by the belief that the needle is not just an artistic medium but a tool for advocacy as well, Bring Up Banner Project leads conversations and art making inspired by our current world. Creating and making banners is a way for community members to resist what is happening in the United States and in the world, cultivating silent protesting in a safe and positive way.
Local youth ages 10-18 years old, along with adult support, will take part in conversations and journaling in reflection to what advocacy is, what does it mean to them as a young person, and how do they view it in their communities. Discussing and reflecting on these topics, youth will then define one area of advocacy that's important to them, examples of this could be topics of race, gender, equality, being kind, religion, class, and or self acceptance.
After these reflections on advocacy, youth will then learn to design, cut, sew, and paint their own 2ft x 4ft fabric banner with the use of a sewing machine. Through text, colors, pattern, and symbols, participating youth's banners will reflect their topic of advocacy, showcasing what they stand up for.
Date: Saturday, October 16
Time: 10:00-12:30 (activities after project completion may be available depending on weather)
Location: The Big Red Barn located at the Living Earth Community Garden, 170 Good Counsel Dr. Mankato MN 56001. Please park in Loyola High Schools Parking lot and walk across the street.
Youth: Ages 10-18 are welcome
Fee: Program is free of charge but Registration is required to participate. Free will donations to both Living Earth Center and 410 Project are accepted. Space is limited to 8 participants.
We hope you can join the 410 Project and Living Earth Center to Bring Up the Banner.