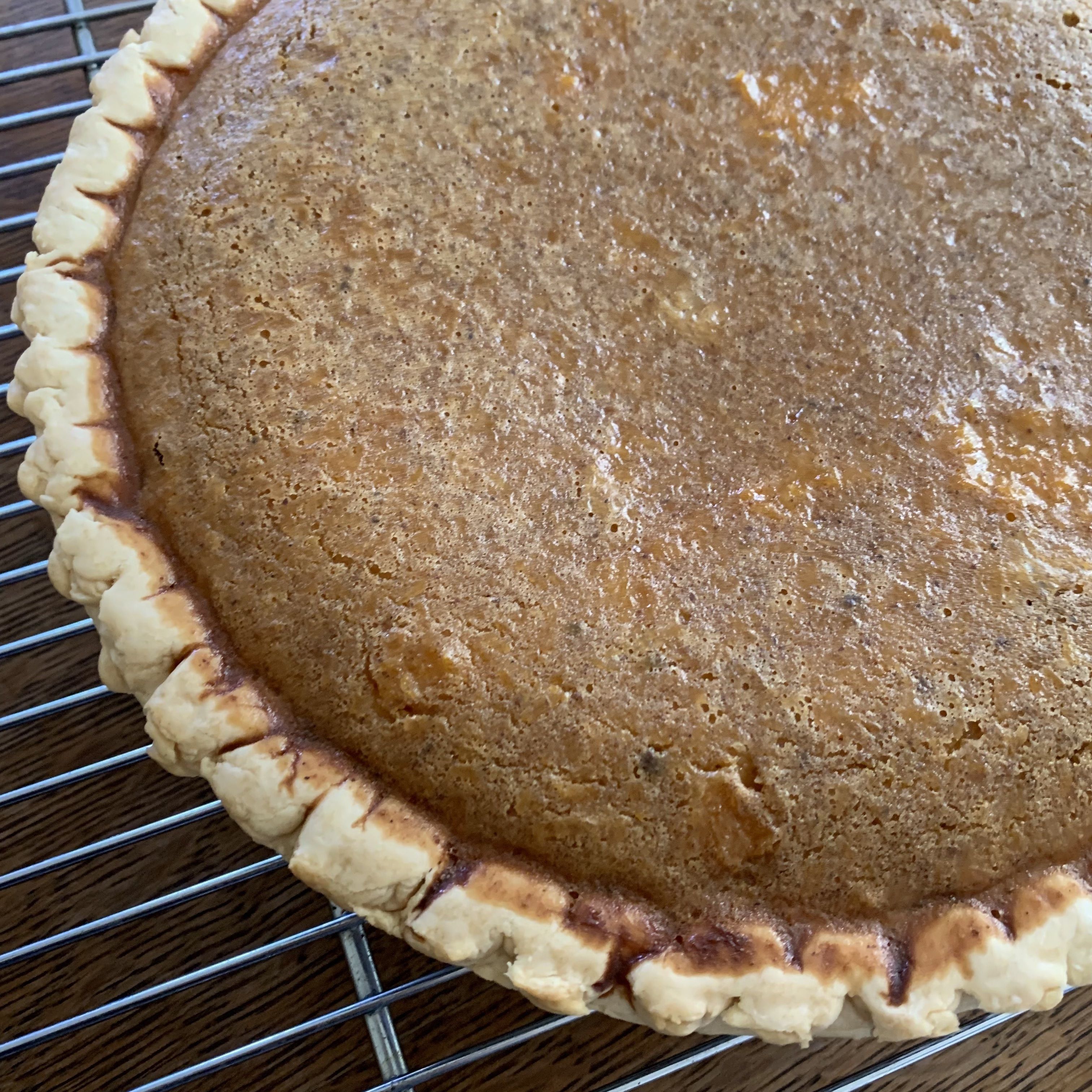 I have a bumper crop of butternut squash this year and so have been on the lookout for new recipes to give a try.  I wasn't sure if butternut squash pie was an actual thing (I was prepared to just sub it for pumpkin if necessary) but it turns out it totally *is* a thing!  And there's a reason for that - it is quite tasty!
I found this recipe on The Spruce Eats - as I said, it makes a tasty pie, the only thing I'll tweak when I make it again is to add more ginger.  You can find the recipe below, or click here to read it online.
Butternut Squash Pie
1 1/2 cups roasted, pureed butternut squash, from 1 large squash
1 cup firmly packed light brown sugar
3 large eggs
3/4 cup evaporated milk (or half-and-half)
1 1/2 teaspoons ground cinnamon
1/4 teaspoon ground nutmeg
1/4 teaspoon ground ginger
1/4 teaspoon kosher salt
2 tablespoons all-purpose flour
1 tablespoon unsalted butter, melted
1 teaspoon pure vanilla extract
1 (9-inch) pie shell, unbaked and chilled
Whipped topping or whipped cream, optional
1. Cut the butternut squash in half lengthwise; remove stem and scoop out the seeds.
2. Place the squash, cut-side down, on a foil-lined oiled baking pan; add about 1/2 cup of water to the pan. Cover loosely with foil and bake at 400 F for 45 to 55 minutes, or until the squash is tender and can be easily pierced with a fork.
3. Let the squash cool completely. Scoop out the flesh and then peel and mash or puree the squash, or put it through a food mill. Measure 1 1/2 cups of the squash and set aside.
4. Reduce oven temperature to 350 F and position a rack in the center of the oven.
5. In a mixing bowl with an electric mixer, beat the squash with the brown sugar. Add the eggs, evaporated milk, spices, salt, flour, butter, and vanilla. Beat until well blended.
6. Pour the filling into the chilled pie crust and place on the center oven rack.
7. Bake for 45 to 55 minutes, or until set. Check after about 35 minutes and loosely set a ring of foil or a pie crust protector over the browned crust, so it won't get too dark.
8. When the filling is set, transfer the pie to a rack to cool.
9. Serve just warm or at room temperature with a dollop of whipped topping or whipped cream, if desired.