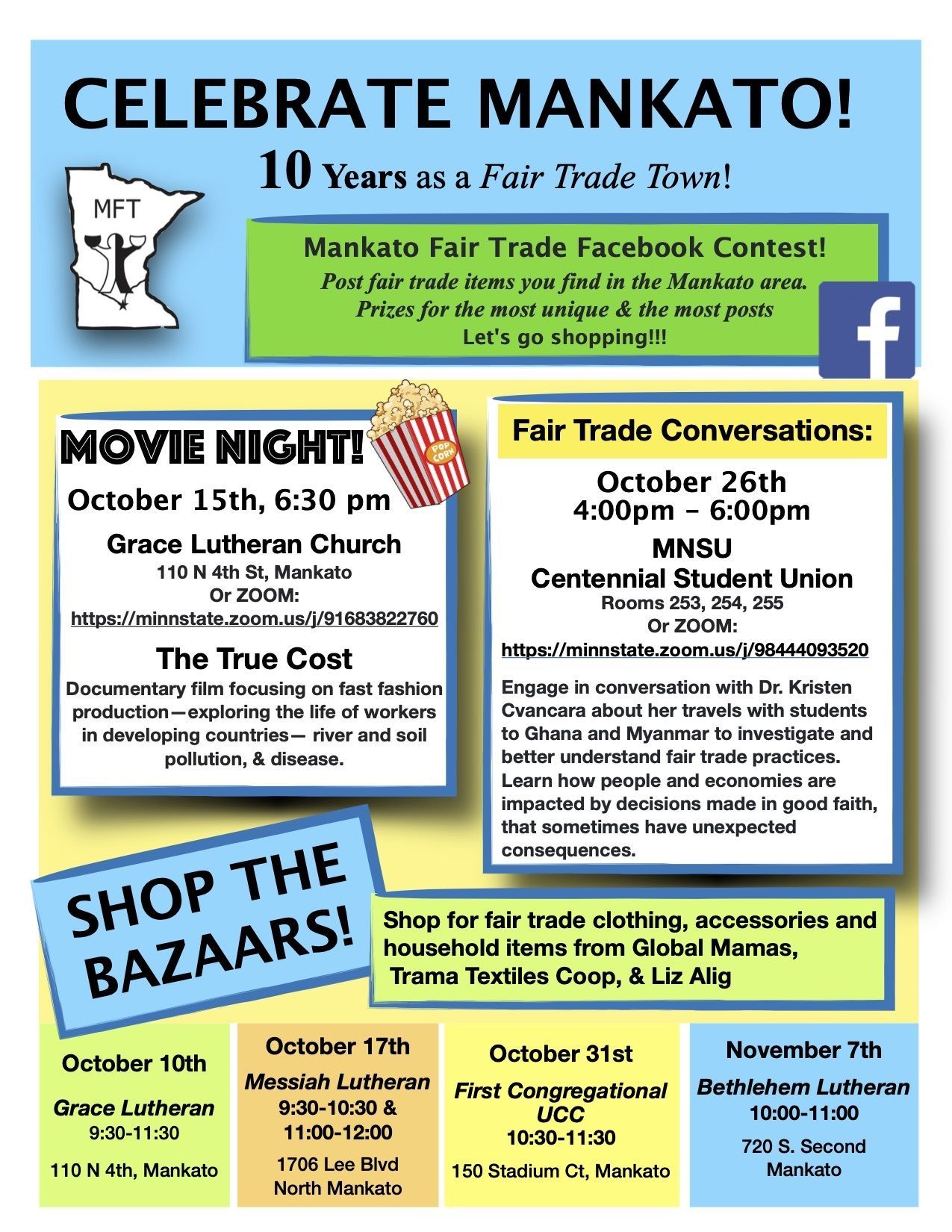 This October, Mankato Fair Trade is celebrating the 10th anniversary of Mankato being a Fair Trade Town!
Mankato Fair Trade has planned a month-long celebration!  There will be a fair trade Facebook contest with prizes, a series of bazaars at four different churches, a movie night and a talk at MNSU. 
•  To enter the Facebook contest, visit www.maftti.org and post Fair Trade items you find in the Mankato area stores. The most unique Fair Trade product and the most posts entered will win prizes.
•  Fair Trade bazaars will be on: October 10th at Grace Lutheran church 110 North 4th Street, Mankato, 9:30 to 11:30; October 17th at Messiah Lutheran, 1706 Lee Blvd, North Mankato, 9:30 to 10:30 and 11:00 to 12:00; October 31st at First Congregational UCC, 150 Stadium Court, Mankato, 10:30 to 11:30; and November 7th at Bethlehem Lutheran, 720 South Second Street, Mankato, 10:00 to 11:00. Fair Trade products and clothing will be available to buy and order from Global Mamas, Trama Textiles and Liz Alig Fair Trade co-ops.
•  October 15th at 6:30 at Grace Lutheran, Mankato Fair Trade will show the movie The True Cost that focuses on fast fashion production from the exploitation of workers to the waste and pollution it creates. You can attend in person, socially distancing and wearing masks, or you can attend by zoom. The zoom link is
           https://minnstate.zoom.us/j/91683822760.
•  October 26th from 4:00 to 6:00. Kristen Cvancara, Professor of Communication Studies at MSU, will be speaking on Stories of Fair Trade Exploration in Guyanna and Myanmar. The talk will be in rooms 253, 254 and 255 Centennial Student Union at MNSU. You can attend her talk by zoom also. The link is