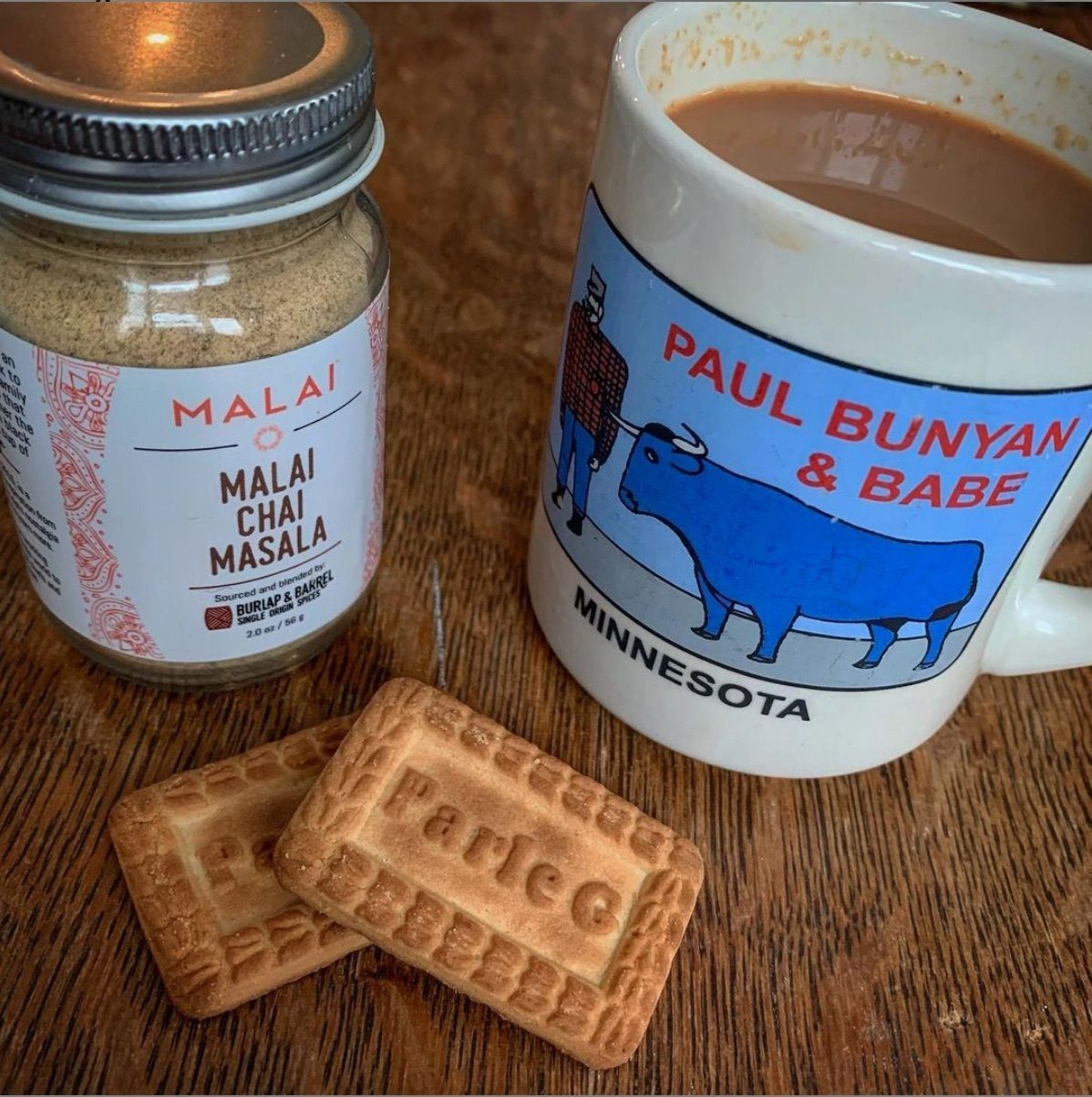 I recently took an online class with Pooja Bavishi of Malai Ice Cream and the Museum of Food and Drink about Masala Chai.  I learned the traditional way of making Chai (instead of my usual way of buying it from the Coffee Hag). 
I have found that making Masala Chai in the afternoon is the perfect antidote for that sleepy post lunch crash I usually find myself fighting.  And the drink itself is warming and comforting while the ritual of making it affords me the opportunity to slow down for a few minutes in a hectic day.
The recipe calls for Malai brand Chai Masala (it *is* her recipe after all), but Pooja said the spice blend she uses is particular to her family... there are many different masala chai blends and you need to find the one that's right for you.  If you have a premixed blend you can use that or a quick google search will give you recipes to try mixing your own. 
Personally I found that adding the fresh ginger was too much spice-heat for my Midwestern palette, so I leave that part out when I make it.
The recipe can be found on the Malai website here: Mom's Masala Chai if you want to bookmark it, and it is reprinted here as well:
Makes one cup
Ingredients:
1 cup water
1/3 milk (any kind works, but I prefer 2%)
1 tbsp. sugar
1/2 tsp. Malai Chai Masala
1 inch piece ginger, minced, optional
2-3 mint leaves, optional
1 tbsp. black CTC tea (or loose black tea)
Directions:
Add water to a small pot. Place the pot over medium high heat. While water is warming, add 1 tbsp. sugar, 1/2 tsp of chai masala, and 1 inch piece of fresh ginger, minced.
Bring water, sugar and spices to a boil. When at a rolling boil, add milk and let it heat up. Taste the mixture and adjust sugar and spices to your preference. If using mint, add the leaves now.
When the milk starts boiling, lower the heat and add tea. Stir the tea with a spoon and let the milk mixture and tea boil together for about 45 seconds to a minute - you want to make sure that the tea becomes a golden amber color. Strain the tea out and enjoy while hot!