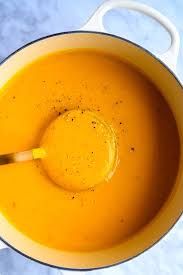 'Tis the season for squash!This is a family favorite and its both gluten free and vegan. 
Butternut Squash Soup
Adapted from Gimme Some Oven
Ingredients
2 cups vegetable stock
4 cloves garlic, peeled and minced
1 carrot, peeled and roughly chopped
1 Granny Smith apple, cored and roughly chopped
1 medium (about 3–4 lbs) butternut squash, peeled, seeded and diced
1 white onion, peeled and roughly chopped
1 sprig fresh sage
1/2 teaspoon salt
1/4 teaspoon freshly-ground black pepper
1/8 teaspoon cayenne
pinch of ground cinnamon and nutmeg
1/2 cup canned (unsweetened) coconut milk
optional garnishes: extra coconut milk, smoked paprika, or see more ideas above
Instructions
Add vegetable stock, garlic*, carrot, apple, butternut squash, sage, onion*, salt, pepper, cayenne, cinnamon and nutmeg a large stockpot.  Toss to combine.
Cook on medium-high until the mixture reaches a simmer.  Then cover, reduce heat to medium-low, and simmer for 20-30 minutes until the vegetables are all tender and mash easily with a fork.
Remove and discard the sage.  Stir in the coconut milk.
Use an immersion blender to puree the soup until smooth.  (Or you can transfer the soup in two batches into a traditional blender and puree until smooth, being extremely careful not to fill the blender too full with a hot liquid.)  Taste, and season with additional salt, pepper and cayenne as needed.
Serve warm, topped with your desired garnishes.
Find this any other recipes at: 
(https://www.gimmesomeoven.com/slow-cooker-butternut-squash-soup-recipe/#tasty-recipes-60202)