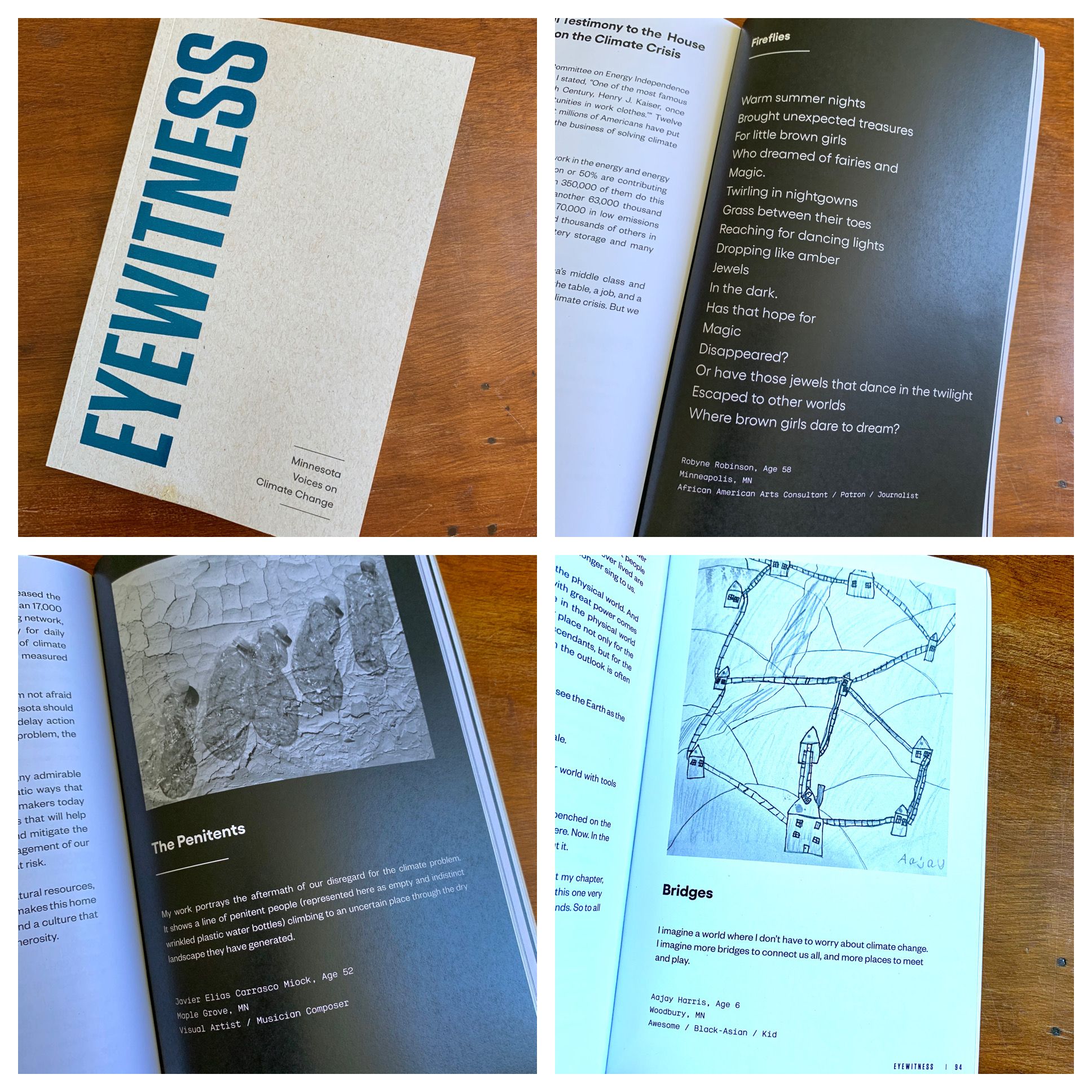 After attending the webinar, "Eyewitness: Intersection of Racial Injustice and Climate Change," hosted by Climate Generation: A Will Steger Legacy in early August, I ordered two copies of their new book Eyewitness: Minnesota Voices on Climate Change, one for myself and one for the LEC library.
The book is a collection of essays, poems, and artwork submitted by over 50 Minnesotans of all ages and from all walks of life, sharing their personal experiences with climate change.  Explaining the history of the project the editors say, " Building from polar explorer Will Steger's powerful first-had accounts of climate change, Eyewitness: Minnesota Voices on Climate Change reflects the broad range of impacts and perspectives that speak to the depth and scope of how climate change is being seen and felt in Minnesota."
The collection runs the gamut of emotions, from loss to hope and resiliency.  The different forms of expression, an essay on the love of Minnesota winters followed by a poem by a birder, illustrate the variety of experiences of people across the state.  While the method of communication is varied, the message is the same – "that we are no more nor less than the relationships that sustain us.  Without the relationships and landscapes that have shaped us and informed who we are, our home becomes unrecognizable."
The book serves as a call to action – inspiring the reader to reflect on their own experiences with climate change and then encouraging them to share their story.  The final pages of the book include a template and tips for writing to legislators.
I found this book inspiring and encouraging.  We are all effected by climate change and we can all make a difference.  Our personal experiences are valid and deserve to be heard.  The more perspectives we have, the stronger we are.  Together we can take action to stop climate change.
You can find this book at the LEC library (once we are cleared to begin entering the SSND campus again) or you can order your own copy for only $4.99 from Climate Generation's website: https://www.climateeyewitness.org/