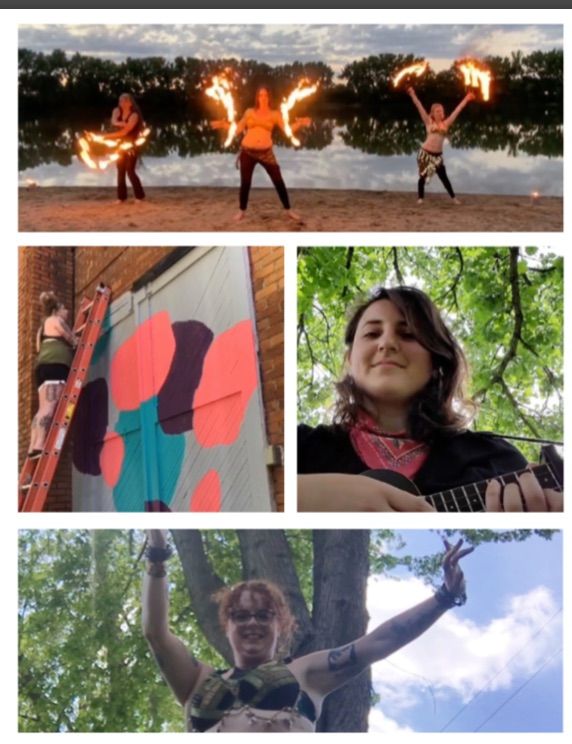 One of Living Earth Center's goals is creating common ground, a place where everyone can feel comfortable and welcome.  With the advent of Covid, gathering on literal common ground has become a safety concern, so the LEC Event Committee decided to create a virtual gathering space.
Last summer LEC hosted their first Open Mic Night up at the Big Red Barn, they had hoped to continue that this summer, and so instead decided to host a monthly series of Virtual Open Mic Nights via Zoom.
Each month is given a theme (May was Green and June was Sunshine), performers submit a video inspired by the theme, and then all the videos are premiered together at the Zoom meetup.  "The videos have been a joy to make," said two-time performer, singer and ukulele player Hanna Cesario.  "I'm always curious to see what everyone else did for the theme.  The videos are fun and creative, and I love the variety of musicians, artists, and dancers."
The Open Mics are not just focused on musicians, they have also featured different styles of belly dance, spoken word, and last month featured a time-lapse video of local artist Abby Daleki painting a mural.  "Everyone is so talented," said belly dancer Blair McLaughlin.  "I loved the challenge of making a video for the show.  As an audience member, I have no idea what type of performance is coming up next.  I've been pleased as punch by the variety of talent represented."
Open Mic Night is held once a month, at 5:30 on a Friday.  The response has been overwhelmingly positive, with over 40 audience members tuning in to watch.  "I was happy to find something to do that looked like fun," said audience member Barbara Young.  "During the first show I not only enjoyed all the performances but found out information that I had no idea about the Living Earth Center.  I love supporting them, especially during this crazy time.  I so enjoyed the first show – of course I had to watch the second and will continue to watch future ones as well!"
That sentiment is also echoed by the entertainers.  May's show had 9 performances – one coming all the way from New York City – and that number grew to 15 for June's show.  When asked if she was planning to perform again Cesario said, "Of course!  It's been a fun way to stay connected during these times."  McLaughlin agreed, "As a performer, to have a venue in this day and age is pretty special – I already have a ton of ideas for my next video!"
If you want to tune in for next month's show, mark your calendar for July 24th at 5:30, and keep an eye on our website or facebook page for more details.  July's theme will be Heat!
If you are interested in performing, please contact committee member Melissa Martensen at mlmartense@yahoo.com.
Want to watch the videos played at previous Open Mic Nights?  Check out LEC's youtube channel!  (click here for link to youtube playlists)