Earth Day Virtual Open Mic Night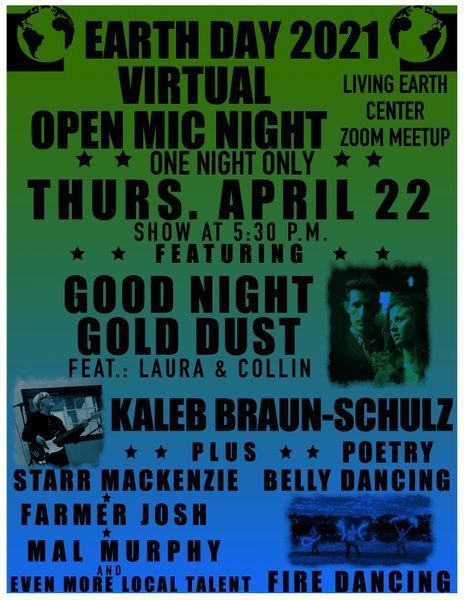 Virtual Open Mic Night is BACK!!!
This time we're celebrating Earth Day and kicking off our 2021 Give to Grow Mankato Campaign!
Join us for music, dance, poetry, and more!!
Following Virtual Open Mic Night tradition, artists were invited to participate, this time creating a performance inspired by Earth Day, they record their performance, send it to us, and we play them for YOU during a fun and oh-so-entertaining zoom meetup!!
The following artists are confirmed performers:
Colin and Laura from Good Night Gold Dust
Kaleb Braun-Schulz
Mal Murphy
Farmer Josh
Starr Mackenzie
Lisa Noll
Belly dancing from:
Sherazad
Elly Watson
Pryder Danse
Wohpe Fire Belly Dance
Swords and Silks Mankato
Poetry by Esther
and more to come!!
We can't wait to watch their amazing performances with you in celebration of Earth Day and kicking off our Give to Grow Mankato campaign!
Zoom Link: 828 6207 0477