Earth Conference Speakers Focus On Message Nature is Sending
By Melissa Martensen December 4, 2018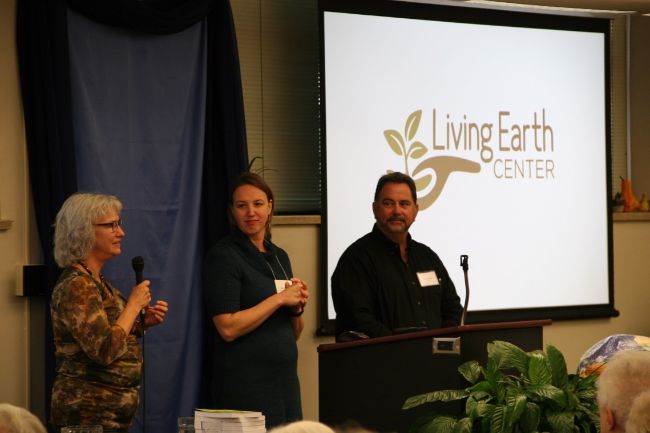 This year's annual Earth Conference, Nature is Speaking: Are You Listening took 120+ conference attendees on a journey to rediscover the importance of hearing Earth's cries for help as well as her gentle reminders that we are all connected.
The morning began with an opening reflection lead by Lalande Hennen, SSND which centered the group and focused them on the task of the day.  "Nature is constantly speaking to us.  Her voice reaches us from the oceans, the wind, the land, the sun, the growing plants, the insects, the animals," Hennen said.  "Can we afford to turn a deaf ear, a busied mind, or a hardened heart to her wise concerns and advice for all creation?  Are we listening?"
Tim Dewane, Director of the  Justice, Peace, and Integrity of Creation Office for SSND, and Cheryl Leutjen, author of the book Love Earth Now: The Power of Doing One Thing Every Day were this year's conference speakers.  Their morning presentations focused on How Nature is Speaking to Us.
Dewane shared examples of how Earth is speaking to us through the form of unprecedented climate change.  From super typhoons in Asia to the migrant caravan travelling north from Central America climate change affects us all.  "Unpredictability in weather is especially hard on those closely connected to the Earth," he said, explaining why thousands of climate refugees have been forced to abandoned their land and join the caravan north.  He shared a number of  personal stories of people around the world, bringing home his point: "The reality is – we are all connected," Dewane said.
Leutjen's morning presentation focused on how Nature speaks to each of us, on a more individual level.  She shared her personal journey of being led by Nature to better hear to what Earth has to say.  Leutjen said that spending time outdoors, even 5 minutes sitting under a tree in her yard, calms her mind and helps her find inspiration and insight.  "For those of us that spend too much time indoors Nature doesn't speak to us in ways we're expecting," she said. "Release your expectations, just sit back and take it in… we need to trust in our understanding, it's encoded in our very DNA."
Their afternoon presentations centered around the theme Hope In Action.  Dewane shared a number of projects happening both locally and globally, stressing that one of the most powerful solutions to climate change is educating young girls and advancing gender equity.  He also revisited people from the stories he had shared earlier, highlighting the changes brought about by their actions.  The keys he said are, "Faith and hope.  You are a catalyst – the yeast – you have to do the hard work before you can rise."
 Leutjen spoke to finding hope in even the smallest individual actions.  "If we don't have hope, how can we move forward on any level?" she asked.  She stressed that we are each endowed with our own gifts and that's where we should focus or individual action.  "Pick something," she said, "do what you can with the skills that you've got."  She emphasized letting go of things you have no control over, trust the work to those doing it, thank them, bless them, and move on.  "I feel good when I'm giving what I've got to give.  It's not about the small thing I'm doing, it's about the great work love is doing," she said.